It's time...
Welcome to Sterling Game of Homes!
You have a chance to win some amazing prizes, and we've got some for the kids too! Running from October 20, 2017 - December 17, 2017, you have multiple opportunities to win!
All you need to do is fill out the registation form on this page, and then head out to any one of our show homes and take a selfie! It can be you by yourself, with your family, or you and 15 of your closest friends. Just make sure to connect with us on Facebook, Instagram or Twitter so that we can see your selfie!
Add the relevant hashtags (including #SterlingGOH), post it, and boom - you're done. You can post to Instagram, Facebook, Twitter - or all three!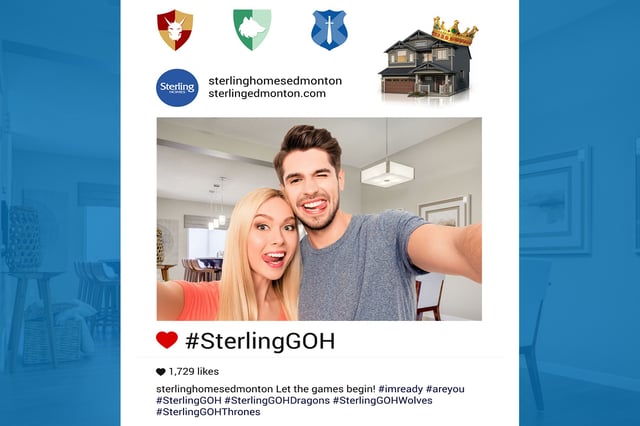 We have a different theme for each section of the contest so you can enter multiple times with only one registration! The themes for this year are:
So, what can you win?
Well, there are some great prize packages available:
Early Bird:

$500 Bed Bath Beyond gift card

$1,300 Sephora gift card
$1,300 Cabela's gift card
$1,300 Southgate Mall gift card
Grand Prize:

$5,000 Cabela's gift card or
$5,000 gift card towards a stay at one of the Fairmont Hotel Chains
Remember how we said we had some stuff for the kids too? With your registration, your kids can enter the colouring contest. And the colouring pages following along with our contest themes! As soon as you complete the registration form on this page, you'll be able to download the colouring pages.
Your kids will love these prizes:
Two difference prize options for for each theme! (three prizes to be awarded in total). You can choose from either:

a LEGO gift card or
a Indigo Kids gift card
Plus, we'll be doing surprise draws with mystery prizes throughout the entire contest! What are you waiting for?! Fill out your registration on this page and you're all set! *
* registration is mandatory to be entered into the contest and any entries that do not have a valid registration will not be considered; by filling out the registration and submitting your information, you are agreeing to the Rules and Regulations of the contest, which can be viewed here.
Our Sponsors: